CARSON BARNES:
ORCHID CONSULTANT
Griffin, GA 650 879 0982 or 650 207 6762
email orchids (at) orchidconsultant.com (use @ instead of "at" for email)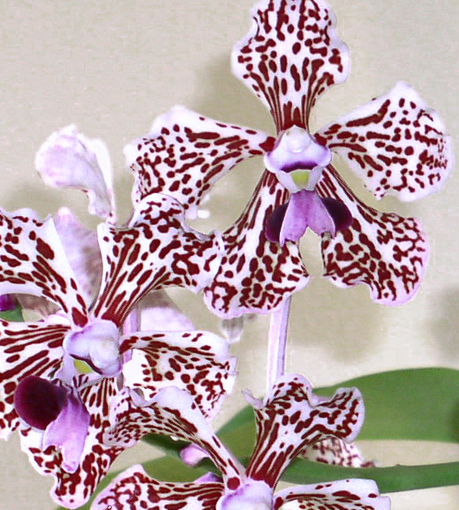 Two of our plants were awarded last week. Proud papa syndrome.
It's Vanda tricolor var. suavis 'Bali Bottlerocket', AM/AOS, AND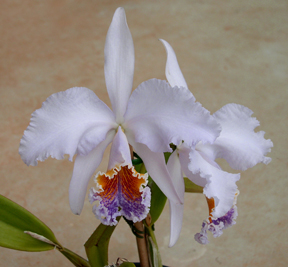 Cattleya mossiae 'Peachy Blue', AM/AOS. We'll have seedlings of these species and hybrids in a few years. Both bloom for Mother's Day!.
By the way, see some of our orchids in the flesh at Safehouse Coffee Roasters in Griffin. Have a cup while you're there.
SAMPLES | SAMPLES 2 | RARITIES | CULTURE | CONTACT | PHOTOGRAPHS | WHOLESALE
ODONTS | PAPHS | VARIOUS ORCHIDS | LINKS | FAQ | ART? | BLOG
IN THIS ECONOMY, the obvious question is whether orchids are a necessity. The answer is first, yes, the beauty that uplifts you is essential - a ten minute vacation spent gazing upon a flower.... Secondly, the answer is a question: "Do you not deserve a moment of rare grace every day - and if not you, then who on earth does?"
Every day, as we ship out orchids, the question is, "Will this flower help make a world more like the one we'd like to live in?" When the answer is an obvious "yes", we send that plant out.
In addition to our florist, garden shop and orchid specialist clientele nationally, we also supply some small number of florists and garden shops here in the San Francisco Bay Area. Please feel free to refer your colleagues - our business has grown mainly by word of mouth; in turn, we don't hesitate to refer potential clients to you, if they're in your area. Email us (orchids (at) orchidconsultant.com) or call to get on the email list for the weekly availability, which includes a bunch of links to photographs. Sorry, no overseas shipments.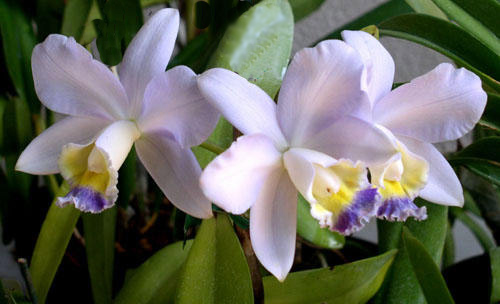 A note on the photographs: all are copyright Carson Barnes, usable by permission; high quality photo prints are available of many seen here, and many more not seen. Prices for archival prints start at $50.00. Inquire.
Note: We're not "e-commerce" - no information will ever be solicited by email, as it's generally recognized as NOT SAFE to email creditcard or bank information. Should you receive an email allegedly from us soliciting such information please notify us immediately at one of the telephone numbers above.